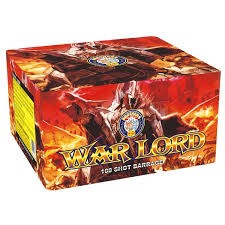 Battle after battle, this warlord is hard to beat as it fights the darkness with 100 blows.
Straight up firing of red tails to red wave with silver glitter, green tails to purple wave with green glitter before breaking out in a W pattern of red and green crackling comets streaming left and right whilst beautiful blue brocades fill the center sky. War Lord finishes with a fanned volley of crackling flowers.
In-store promotions and multi buy discounts maybe applicable to this product. Please call 01296 339100 or visit our store for details.
| | |
| --- | --- |
| Manufacturer | Brothers Pyrotechnics |
| Range | Barrages |
| Model | War Lord |
| Stock Code | WL1386GB |
| Noise | High |
| Duration | 42 secs (approx) |
Orders can be collected from our Aylesbury Firework Shop following notification of readiness and orders over £150.00 and within our delivery area get free delivery!
Aylesbury's Longest Serving Firework Specialist!